Yes, this is a post about musicals. No, you should not click away. Cliche as it sounds, Dear Evan Hansen is not your regular piece of musical theatre. It's a triumph of art that can (and should) be enjoyed by all, whether you like the medium or not. Here's why.
I don't think it's a stretch to say that this show doesn't exactly fit most people's preconceptions as to what a musical is. For one, it's completely new. Even I, as a moderate-to-avid musical theatre watcher, would have struggled a few years ago to think of many shows that came from nowhere. Broadway reflected Hollywood in this way – everything seemed to be an adaptation, revival or completely unwarranted musicalisation of our childhood faves (seriously, who asked for Shrek the Musical???).
Then along came Dear Evan Hansen. A new concept, devised by Pasek and Paul almost 8 years ago during their studies at the University of Michigan, Dear Evan Hansen is still the most current feeling piece of art I've consumed in a long time. The set feels reminiscent of The Curious Incident of the Dog in the Night-Time, very dark with digital screens and harsh spotlights. At times it feels boundless and empty, at others completely overwhelming with flashing images of social media feeds. That's where it's effect lies, I suppose. The story is very centred around this idea of social media and hyperconnectivity, of which both the set and the music portray to incredible effect.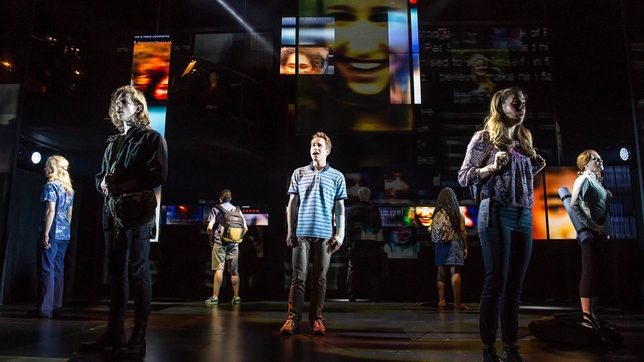 The music. Usually, if I try to sell someone on a musical, the score isn't the first thing I go to. Weird, I know, but I'm assuming here that the person I'm talking to needs convincing out of some pretty anti-musical feelings. Some people don't like the old razzle-dazzle and that's fine. I totally get it. But the music of Dear Evan Hansen is so fresh and modern that it could be played on the radio and you'd be none the wiser to its origins. There's also a chance that you've already heard Pasek and Paul's work in the past. Heard of La La Land? Yep, that's Pasek and Paul, Oscar-winning composers. La La Land has done for movie musicals what Dear Evan Hansen is doing for the stage – bringing a wider audience in, and leaving them spell-bound. Waving Through a Window, the best-known song from the show, has been covered by all kinds of popular artists, including dodie and Owl City (remember them?!).
The score is gorgeous, the instrumentation feels modern and the voices, good lord. Rachel Bay Jones, Tony-winner, switches from poppy opening song, to raspy rock, to soft lullaby all within the same show. Ben Platt, who also won a Tony for his performance of Evan Hansen, has the most incredibly vulnerable yet powerful voice in any genre as far as I'm concerned. That vibrato though.
Okay so, the music is good, the singing is good. So what? Isn't that like, the bare minimum for a musical? Yeah, good point. BUT. What really makes this show as special as it is is the story itself. Steven Levesnson's book for Dear Evan Hansen is just as accomplished, nuanced and beautiful as the music. In my opinion, this is where many musicals fall down in people's eyes. The music can be brilliantly orchestrated and performed, but if the story isn't there to back them up, it can fall flat. But this story is incredible. Without spoiling too much, Evan Hansen is a socially anxious teenager who falls into a lie where he claims to have been close to a classmate who committed suicide. However, because of this lie, Evan helps the grieving family to heal, as well as doing good for the community and fixing himself a little on the way. The intricacies of Evan's character are flawless, Ben Platt's performance bringing out Levenson's writing in the most beautiful ways. Platt has been hailed hugely for this, his commitment to Evan's physicality and anxiousness requiring him to go to physical therapy so as not to develop a hunchback. But you never leave Evan's side. You understand him the whole way through, which I think is a big compliment to the writing as well as the performing. All the characters are fleshed out, all are relatable and all are devastating in their own ways. They're all wonderfully acted too.
More than just being a great piece of art, Dear Evan Hansen is important. As I said, this is new. Whilst a risky thing in the current Broadway climate, the show has experienced unadulterated success and has possibly changed the face of Broadway for the forseeable future. Thanks to the likes of Stranger Things, nostalgia has been dominating our media for a while now. And while I love it, and completely get why people want to distract themselves from the current moment, it's important to think about it sometimes. Dear Evan Hansen brings forth some really prominent issues. Social media, anxiety, suicide. Feeling lost and alone when everyone around you is posting their whole lives online. Trying to connect with the people closest to you and failing. Trying to connect at all. The way in which these things are dealt with in the show is raw, I won't lie to you. I cried a lot when I first saw it. Ben Platt's performance is so visceral, there are tears and snot and spitting and it's so painful to watch in parts. Rachel Bay Jones and Jennifer Laura Thompson's performances as the mothers in the play are just genuinely heartbreaking. All of the performances are, really. It hits you, hard, and not just the parents or the kids, but both. That's what I think is so incredible about Dear Evan Hansen. You can watch it, no matter what age you are, no matter your situation, and find something in it that will resonate with you.
I saw this show back in April and I haven't stopped thinking about it since. I listened to the soundtrack constantly for a few weeks when I was really struggling with my mental health and there's no price to put on the way it helped me. And that's not an uncommon story. Dear Evan Hansen has brought out such a love in people, such a mass of stories and experiences being shared and talked about. It's started a dialogue, between parents and their kids, between friends, and in society as a whole. This show says, 'Hey, look. This shit is important, we can't ignore it. Let's talk. You will be found.' That kind of message shouldn't be limited because you don't like the idea of musicals. Give it a go, and I promise, you won't be disappointed. All we see is sky for forever.